Our team has extensive experience in M&A, and our leaders each have decades of industry expertise. We are as passionate about the industry as you are, and we want to help you create a safe and permanent home for your business.
A Letter from Gordon
Over ten years ago, I joined Volaris Group via the firm's acquisition of AssetWorks. Since then, Volaris' ongoing investment in the business enabled us to pursue organic growth opportunities. We have introduced nine new products, doubled the size of the sales team, and tripled the size of the marketing team. We have also recently added a new benchmarking technology and entered the electric vehicle space.
Since the acquisition, my role has evolved to include mergers and acquisitions as a part of our growth strategy, and I now manage a portfolio of businesses in adjacent and new markets. I've had significant direct, operational experience associated with both managing software companies and driving day-to-day activities. By strategically focusing on changing market conditions throughout my previous roles, I have gained an understanding of the dynamics and complexities that effect decisions within a wide range of businesses.
The decision to sell your software company is not easy, and there are many uncertainties you face when considering the future of your business. As someone who has been through the acquisition process, I understand the impact it will have on your management team and employees and can empathize with their concerns. I can also provide insights on the M&A process from initial considerations to the completion of a transaction, and answer any questions you and your team have along the way.
Through the shared best practices and operational assistance made available through Volaris, AssetWorks and our portfolio are recognizing their potential. Our buy-and-hold forever philosophy is what sets us apart, as it is the foundation of our relationships and investments in the companies we acquire. Businesses are given the opportunity to grow and operate with autonomy, while always keeping the best interests of their employees and customers top of mind.
Whether you are ready to find a safe and permanent home for your company or are just curious about the M&A process and what to expect, I'd like to learn more about your organization's plans and needs. Please feel free to contact me using the form at the bottom of this page and we can schedule a time to connect.
– Gordon Smith, Portfolio Manager, Volaris Group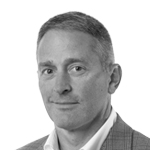 About Gordon Smith
Gordon Smith began his career in fleet management nearly 30 years ago with Control Software Inc. as a Senior Software Engineer. In 1999, Gordon joined MAXIMUS through the acquisition of Control Software (now known as AssetWorks), which was then acquired by Volaris Group in 2008. As the COO of AssetWorks, Gordon directed the transition of the 90-person division to a new parent company and shortly after became the General Manager of the new organization. Gordon established the Mergers & Acquisition team for the Asset Management and Logistics verticals within the Volaris Group and oversees the Portfolio of associated companies.
Interested in speaking with a member of our team? Fill out the form below and we will be in touch!
User Name, thank you for your submission!
A member of our team will be in touch with you shortly.